COVID-19 UPDATE
In an effort to protect our workforce, families, and community while supporting mission assurance in response to COVID-19, the Regional NAF Human Resources Office asks customers needing our services to contact our offices by email at M-GU-JRM-NAFHRO-N9@fe.navy.mil.
---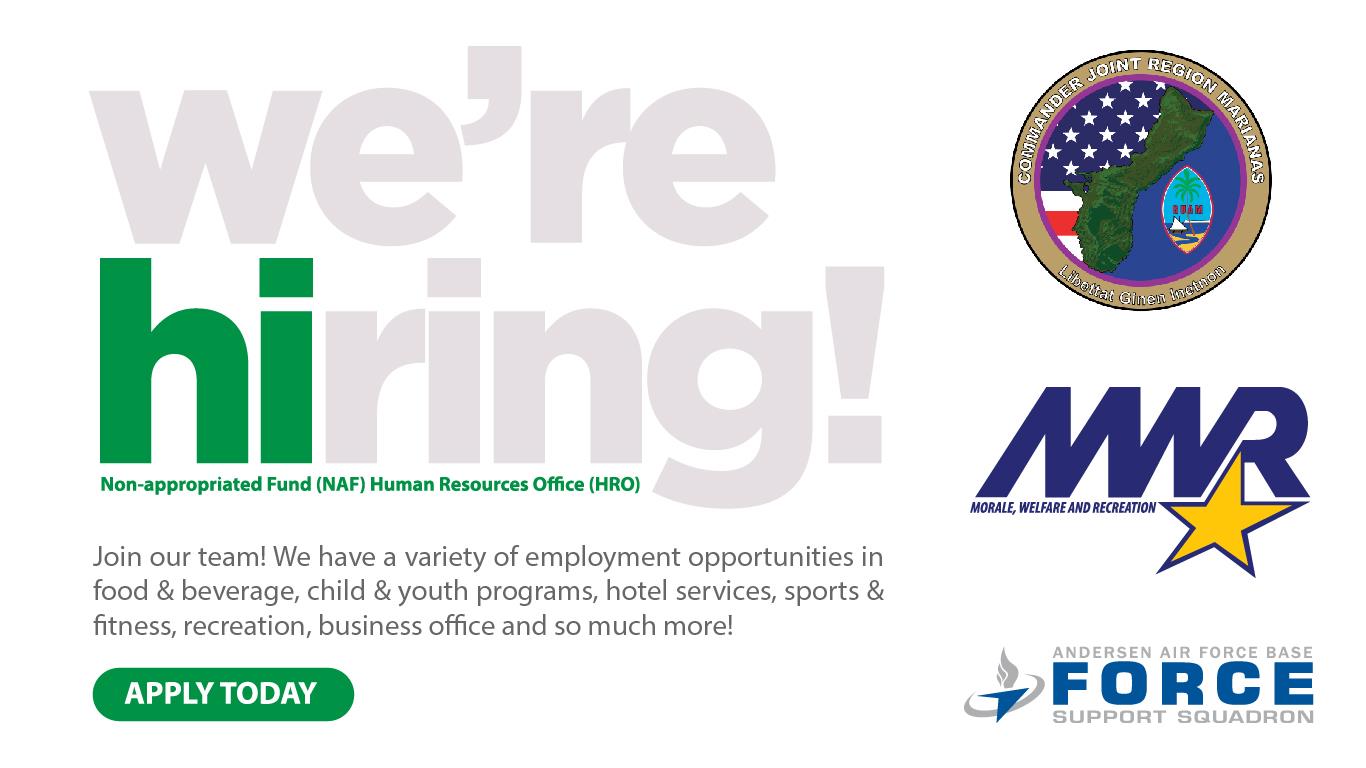 Check our Open Continuous and current job vacancies listed below to apply for any of the jobs listed. We require a resume or NAF Employment Application for each position you wish to apply. Click here to visit our NAF Human Resources page where you can find more information and all the employment forms you need under Downloads.
Job Title Job Number Installation Closing Date
Closing Date:

Jun 11, 2020
Closing Date:

Open Continuously
Installation:

Andersen AFB
Closing Date:

Jun 30, 2020
Closing Date:

Jun 16, 2020
Closing Date:

Jun 18, 2020
HOW TO APPLY
Submit a resume and required documentation via email to M-GU-JRM-NAFHRO-N9@fe.navy.mil. For additional information contact our office at (671)349-1155. All applications MUST be submitted by the closing date on the announcement in order to be considered. Due to the volume of applications received, applicants may not be notified of non-selection.
ALL APPLICANTS
If claiming educational qualifications, please provide proof of education (e.g., diploma, transcript, certificate, etc.). Required documentation must be submitted for each "Open Continuous" position applying for and/or specific vacancy announcement. Some positions have special requirements. In these cases, the selection is tentative pending satisfactory completion of these requirements.
APPLICANTS CLAIMING HIRING PREFERENCE
Please ensure your status is indicated in your USAJOBS account and ALL required documents to claim preference are submitted.
WHAT ARE PREFERENCES?
Preferences are advantages in the candidate selection process. Individuals can claim the following preferences:
Qualifying separated employees shall have priority placement in the NAF activity from which they were separated as a result of a Business Based Action (BBA), when the position has substantially the same duties as the position from which they were separated and it is not a higher grade or employment category, provided the position is not being filled by an internal candidate.


To claim this preference, you MUST:

• Submit a copy of your BBA Separation Notification indicating eligibility for RPL.

Qualifying spouses eligible for MSP are spouses of an active duty military member of the U.S. Armed Forces, including members of the National Guard or Reserves on active duty. The marriage must have occurred before the military member received official permanent change of station (PCS) orders to Guam. MSP is applicable only when applying for NAF positions at the NF-03 and below and equivalent craft and trade (CT) positions.

To claim this preference, you MUST:

• Submit sponsor's PCS orders to Guam; AND

• If you are not indicated as a spouse on the PCS orders, you MUST submit proof of marriage prior to PCS to Guam.

Click here to download MSP Form

Qualifying military veterans and spouses/parents of deceased veterans shall be given employment preference over non-preference applicants if they are equally qualified. Preference applicable for positions open to external candidates.


To claim Veteran's preference, you MUST:
• Complete and submit a Veteran's Preference Worksheet - click here to download the form
• Submit a copy of your DD-214 (member 4 copy)

To claim Gold Star Veteran's preference, you MUST:
• Submit completed SF-15, Application for 10-Point Veteran Preference Worksheet - click here to download form AND
• Submit a legible copy of DD-1300; AND
• Submit any other supporting documentation (official statements, a document of service, court decree, etc).
Qualifying applicants with preferences are considered in the order listed above. Then all other qualifying applicants are considered.
PRIVACY ACT STATEMENT FOR NAF APPLICANTS
Authority to request this information is derived from 5 U.S.C. 301, Departmental Regulations. The purpose of this information is to determine the qualifications, suitability, and availability of applicants for employment with a NAF activity, and of current employees for reassignment, reinstatement, transfer, or promotion. The information will be used to assess qualifications, entitlement, and overall employment suitability. The completion of information on this form is voluntary. Failure to provide this information may prevent you from receiving full consideration for the position you seek.
NAVY MWR EEO RESOURCES
https://www.navymwr.org/resources/EEO/